The 31st Annual Cabin Festival
date is June 4th, 2016
We hope to see you there.
This is a day totally devoted
to Free-Family-Fun!
---
The 30th Annual Cabin Festival was held June 6, 2015
at the Cragg Cabin

.

  The Festival adventure began in the Visitor's Center.

The food tent located next to the butterfly barn, sold buffalo burgers, hamburgers, brats or hot dogs. The gift shop was near the Cragg Cabin.  Many of our visitors purchased tickets for the 2015 fundraiser that consists of a hikers packet of walking stick, bag, water lanyard, hat or visor and t-shirt.

We thank our many visitors and our friends that assisted us with the Festival. Mark your calendar and come back next year.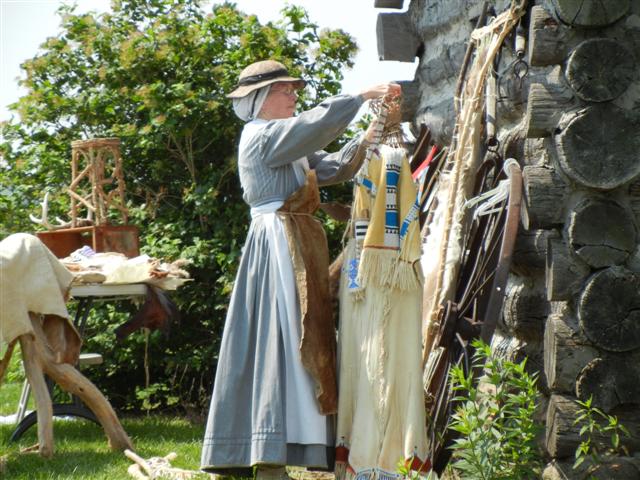 Tanner Mansfield will be returned again next year as well as Lou Aiello
and his Traveling American Indian Exhibit.
2015 Festival Flyer



Visit our Photo Album of t

he

30th Annual Cabin Festival 2015 by clicking on the underline.

Cabin Festival
is sponsored by the Goose Lake Prairie Partners and the
GLPSNA Staff.

Re-enactment may include
:

American Indian Life & Culture
Cooper
Campfire Cooking
Soap Making
Candle Making
Tanning, Farming
Plant Study
Old fashion Games
Wood working
Wood Carvers
Fiddling
Knitting, Crochet
Lace Making, Quilting
Weaving, Spinning
Basket Making
Clothes Discussions
Culture in 1830
Cabin Life & Area History
The Origin of the Cabin Festival at GLPSNA

In February of 1985, a new Prairie Partner asked about the Cabin and it's uses. She was told that it was used once in the fall for a program called "Incredible Edibles," and a warming place for cross-country skiers in winter. Vince Matthews, the interpreter at the time, asked what the person had in mind.

It was at that time that Cabin Festival began, patterned after the "Settlement" in Lockport, (run by the Will Co. Historical Society). The new member knew several of the crafters in Lockport and asked them to come to Goose Lake Park and bring their crafts, making and doing things that the pioneers would need to do to survive.

The cabin (knows as the Cragg Cabin) had only two benches, a table and a chair that was donated. Pioneer Cabin Festival was bore.

The date chosen was September Prairie week and also combined "Incredible Edibles." This was what we would call "weeds," but the pioneers found several things such as dandelion leaves and some roots to use in the spring. They picked wild berries as the summer progressed and made jams and sauces. The partners demonstrated the use of the "weeds" and served jams and jellies on crackers for the 'guests' to sample.

Eventually, because of weather and lack of crafters in the fall, the Pioneer Cabin Festival was moved to spring. Crafters were not so overwhelmed with too many festivals at that time.

(Reference: Jo Fleming, Morris, IL)
---
We are constantly looking for period
re-enactors to help us with this event
.
Crafts that pioneers would most likely do in the
1800s is our emphasis.
If you would like more information about our festival
please call 815-942-2899.
---
Updated June 9, 2014.